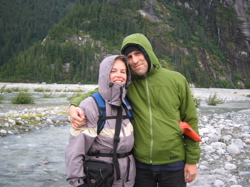 Alaska's Inside Passage
July 31 - August 7, 2005

Just sit right back and you'll hear a tale, a tale of a fateful trip.
Fourteen of us spent eight days and seven nights aboard the M/V Catalyst, a wooden boat built in 1932 as the University of Washington's first oceanographic research vessel. We set sail in Juneau and meandered our way south to Petersburg -- about 200 miles, as the marbled murrelet flies. Along with Eliza and me were my dad and his girlfriend Cheryl, my sister Linda and her boyfriend Rudolf, and my other sister Cheryl, her husband Richard, and their kids Owen and Athena. We were joined by a phenomenal crew: captain Craig Foss Campbell, engineer Bill Bailey, cook Erica Fickeisen and naturalist Hans Bruning. If not for the courage of the fearless crew, the Catalyst would be lost.
Providing our entertainment were humpback whales, mountain goats, short-tailed weasels, sea cucumbers, sea lions, seals, eagles, otters, bears, clams, worms, chitons, limpets, porpoises, salmon, terns, loons... I'm not the sort to go nuts over nature, but I was awestruck. While in the 49th state I also gorged on fresh crab, skipped stones, lazed in hot springs, learned to play "Speed Scrabble," watched glaciers calve, and marveled at the miracle of fleece pants.
Hide the pies!