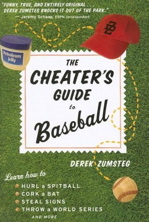 The Cheater's Guide to Baseball
By Derek Zumsteg
Houghton-Mifflin, 2007
Was it cheating when, on May 27, 1981, Mariner third baseman Lenny Randle dropped to all fours on the Kingdome turf and blew a slow roller into foul territory?
Was it cheating when, on June 12, 1970, Pirate pitcher Doc Ellis threw a no-hitter while tripping on LSD?
Was it cheating when, well, all those times you smuggled your own booze into Safeco Field, and then snuck down to the Diamond Club seats?
Unfortunately, Seattle scribe Derek Zumsteg doesn't address these issues in The Cheater's Guide to Baseball, but his fun new book deals with pretty much every other cheating-related topic, from the hidden-ball trick to Barry "BALCO" Bonds. Zumsteg, the guy behind the popular U.S.S. Mariner blog, defines cheating as a way "to gain through deception, whether or not that deception is legal," and delves in from there.
However, Cheater's Guide gets off to a relatively slow start, describing the rough 'n' dirty tactics of baseball's earliest decades as personified by John McGraw. Other "underhanded but not illegal" strategies covered here are sign stealing (a key factor in Bobby Thomson's pennant-winning Shot Heard 'Round the World) and groundskeeping practices that favor home teams (i.e., the 1981 game when Mariner skipper Maury Wills had the Kingdome grounds crew draw the batter's box six inches closer to the mound).
Other managers are cited for trying to manipulate umpires, including Lou Piniella and his epic tantrums, and the irrepressible Billy Martin (whom Zumsteg lauds as "a cheater's cheater"). The chapter on "Delaying the game for fun and profit" is particularly resonant in light of Mike Hargrove craftily saving the M's from a likely loss at Cleveland's snowed-out home opener last month. On the other hand, the chapter on fan participation strays too far off-topic, even so, it fails to mention the biggest mass-heckling incident in memory, the Fenway faithful's infamous chant of "Daaaar-ryl! Daaaar-ryl!"
The book gets way better in its second hundred pages, dealing with the meatier, clearly illegal sins of corked bats and doctored balls. Zumsteg gives excellent historical analyses of both; too bad he didn't reveal the craftsmen who do the actual woodwork on corked bats (crooked equipment managers? Moonlighting shop teachers?) A couple Mariner pitchers pop up here: Rick Honeycutt, who in 1980 was busted for scuffing balls with a thumbtack, and of course, notorious spitballer Gaylord Perry, who Zumsteg declares the "Greatest Cheater Ever."
Finally, Zumsteg addresses what he regards as baseball's two worst forms of cheating: gambling and steroids. Rampant gambling plagued the sport until matters came to a head with the 1919 Black Sox scandal, which gets solid coverage (even if this cheating is driven by financial gain, not winning). Afterwards, the game remained mostly of such problems until Charlie Hustle came along; Zumsteg adequately explains why it was wrong of Pete Rose to bet on his Reds -- even to win -- and why he shouldn't be enshrined in the Hall of Fame.
Less troublesome to Zumsteg are steroids. He rationally ponders the grey areas a bit more than most knee-jerk reactions ("Steroids aren't bad. Steroid abuse is.") Sure, abuse is problematic, Zumsted argues, but steroid-aided records are no less valid than records set before baseball was integrated (hey, Babe Ruth!), or when spitballs were legal, or when parks were bigger, or when pitcher's mounds were higher.
As for the book's approach of dredging up scandal in a humorous manner, Cheater's Guide isn't as good as Richard Scheinin's1994 classic Field of Screams. Zumsteg's first-person approach often distracts from the subject matter, and he gets a little too cute with the wisecracks, especially in his excessive, often irrelevant sidebars: one talks about placing bets on ballplayers' nose-picking habits, another about betting on the length of the National Anthem. Zumsteg could stand to be a bit more philosophical in exploring the fine ethical line between simple strategy and outright cheating but, he rightly concludes, cheating has always been integral to baseball, and the sport is all the more intriguing because of it.
If The Cheater's Guide to Baseball were a batting average, it'd hover around 300.
Originally appeared in the June 2007 issue of The Grand Salami.