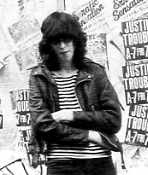 Punk is Dead
Joey Ramone, 1951-2001
Joey Ramone died of lymphoma in New York City on Easter Sunday. He was 49.
The tall, gangly Mr. Ramone, a self-described pinhead, fronted the seminal punk rock band the Ramones. The foursome, which formed in Queens in 1974, clad themselves in matching leather jackets, T-shirts, jeans and sneakers, and adopted the fictitious surname "Ramone." (Mr. Ramone's real name was Jeffrey Hyman.)
The Ramones made an immediate impact by cranking out stripped-down, three-chord songs at breakneck speeds, with ridiculous lyrics about horror movies, comic books, juvenile delinquency, Nazi Germany and model airplane glue. Classics such as "Blitzkrieg Bop," "Teenage Lobotomy," "Sheena is a Punk Rocker" and "I Wanna Be Sedated" were directly influenced by various musical genres of the '60s: bubblegum, surf, garage rock and the girl groups.
After Sire Records released their debut album in 1976, the Ramones' tour of England inspired the genesis of such British punk bands as the Damned, the Sex Pistols and the Clash, igniting a transatlantic punk rock movement. During the Ramones' 22-year career, the band released 20 more albums and played over 2,200 shows.
Befitting their outsider style, the Ramones never broke into the mainstream, but were perpetual critical darlings and an indelible influence on such acclaimed bands as Sonic Youth, Mudhoney, Nirvana and Sleater-Kinney, who recorded the tribute "I Wanna Be Your Joey Ramone" in 1995.
Mr. Ramone is survived by brothers Johnny, Dee Dee, Tommy, Marky, Richie, and CJ.
Hey, ho, let's go.
Originally appeared in The Daily of the University of Washington, April 19, 2001.