Paul Westerberg
Come Feel Me Tremble
Vagrant, 2003
As one of the great American bands of the '80s, the Replacements blended punk's snottiness with a Stonesy swagger, and set it to frontman Paul Westerberg's clever, often poignant lyrics. In the '90s, Westerberg collaborated with others on three disappointing major-label solo albums, but has since found a new, highly productive niche, alone in his Minneapolis basement. In a recent 18-month span, he released 52 tracks over four independent albums. The latest, Come Feel Me Tremble, is his most consistently solid work since the Replacements' heyday.
As with the best 'Mats records, Westerberg again runs the gamut from upbeat rockers ("Making Me Go") to heartfelt ballads ("Meet Me Down the Alley"). He takes both approaches to "Crackle & Drag": his ode to Sylvia Plath is first played loud and fast, followed by an anguished, acoustic rendition of the same (both are excellent). Splitting the difference are such mid-tempo gems as the wonderfully weary "What a Day (For a Night)." Best of all is "Pine Box," a 12-bar rave-up about Westerberg's war-vet father ("Never hit my mama but hit that beach at Omaha"). Though a far cry from the Replacements' best work, Tremble proves Westerberg is still essential.
Buy from Amazon.com.
Written in December 2003.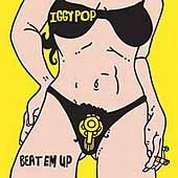 Iggy Pop
Beat 'Em Up
Virgin, 2001
Though he's only five-foot-one, there's no denying Iggy Pop's enormous stature in the history of rock, the Hall of Fame be damned. Between 1967 and 1974, Iggy fronted Detroit's seminal Stooges, the missing link between the '60s garage bands and their New York scions of the mid-'70s. The Stooges' filth and fury was captured on three essential studio albums: 1969's self-titled debut, 1970's Funhouse, and 1973's Raw Power. Their drugs were hard and their music even harder: with metallic knockouts like "I Wanna Be Your Dog," "Search and Destroy," "Gimme Danger," and "Death Trip," the Stooges roared like a motherfucker.
Their chaotic live shows were also the stuff of rock 'n' roll legend: Iggy, unleashed from a Michigan trailer park, was the screaming wildman, smearing his body with peanut butter and steaks, wagging his wiener and rolling around in broken glass, leaving stages drenched in blood, sweat, and puke.
Of course, such an explosive band couldn't last. (At one point, Iggy committed himself to a mental institution.) Since their '74 split, the Stooges' barrel has been scraped clean with myriad live recordings, demos, outtakes, and other rarities, while Iggy continues to pursue a solo career. However, his records have been iffy propositions, ranging from 1977's solid Lust for Life to 1982's forgettable Zombie Birdhouse.
Beat 'Em Up, Iggy's 13th solo effort (or 14th, if you count Kill City), is his heaviest release in decades, though this isn't necessarily a good thing. He's never been very convincing when he "sings" so much as when he howls, of which he does plenty here (particularly on "Howl"). He rants about American society and the government and record executives, and silly metaphors abound ("I'm a football;" "I'm a savior"). Iggy opens "Ugliness" with a scream reminiscent of "TV Eye," and he later woof-woofs as in "Dog Food." But, besides rhythmically pounding on a car horn, Iggy doesn't break any new musical ground, and altogether the results sound like generic, mid-'90s metal.
Sure, Iggy's an old fart -- he's 54, for chrissakes -- but he's still the "Godfather of Punk" (or is it Lou Reed? Or Joey Ramone? Johnny Rotten? Whatever...). In any case, the man's a living legend, with a vital legacy which has since influenced pretty much any band that's mattered. Let's hope that those occasional rumors of a Stooges reunion are someday proven true. In the meantime, we need more.
Buy from Amazon.com.
Originally appeared in The Daily of the University of Washington, August 15, 2001.
P.O.D
Satellite
Atlantic, 2001
So, what would Jesus do?
Judging by the actions of four young Christian men from San Ysidro, Calif., Our Lord and Savior would grow dreadlocks, get tattoos, don baggy clothes and form the generic rap-metal outfit P.O.D..
Although its moniker is an acronym for Payable on Death (reminding you that, yes, Jesus died for your sins) and its politics are likely similar to Pat Boone's, P.O.D. demonstrates that same kind of tight, aggressive, angst-ridden sound popularized by (and interchangeable with) such secular, spelling-challenged acts as Korn, Limp Bizkit and Staind.
Following the brambled path blazed by predecessors MxPx, Stryper and Amy Grant, P.O.D. has broken out of the perplexing world of Christian rock, a broad genre whose various acts are largely derivative of most mainstream musical trends. Indeed, P.O.D. owes much of its newfound success to their MTV-friendly videos, particularly last year's not-exactly reverential "Rock the Party (Off the Hook)," which aired on Total Request Live about as often as it did on the ultra-conservative Trinity Broadcasting Network.
"Alive," the first single from Satellite (released September 11, for what it's worth), has the same sort of anthemic quality as another alternative hit of the same name, recorded ten years ago by a certain Seattle band that has been shamelessly aped by another breakthrough Christian act, Creed. Meanwhile, "Youth of the Nation" addresses the hackneyed topic of school shootings with the help of kids singing the chorus, while vocalists H.R. (of the seminal hardcore act Bad Brains) and Eek-A-Mouse contribute to some reggae-tinged tracks.
(For the record, the CD's accompanying booklet includes multiple photos of the band's humorless mugs, alongside their kid-tested, Jesus-approved lyrics and endless thank-yous, extending "big ups" to everyone from Jesus Christ to Adam Sandler.)
Despite the band's needlessly heavy sound, P.O.D. is down with the man upstairs, allowing their Christian fans to mindlessly mosh alongside their secular brothers. However, for those who actually buy into P.O.D.'s godcore shtick, they can have their manna and eat it, too.
Buy from Amazon.com.
Written in September 2001.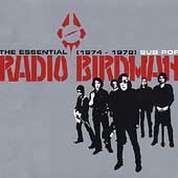 Radio Birdman
The Essential Radio Birdman (1974-1978)
Sub Pop, 2001
Despite the supposed toughness of today's popular Detroit-based acts (Eminem, Kid Rock, Insane Clown Posse, et al.), the hardest music to hail from the Motor City (and possibly anyplace else, for that matter) was blasted out by the Stooges and the MC5. Deniz Tek, a teenage guitarist from nearby Ann Arbor, was weaned on these protopunk monsters before he moved to Australia for medical school in 1972. Two years later, Tek joined forces with Sydney locals to form Radio Birdman, taking its name from a misunderstood Stooges lyric.
One of the '70s most powerful (if obscure) bands, the six-piece Radio Birdman, driven by two roaring guitars and pounding keyboards, kicked out some truly savage jams. Tek was the chief songwriter and lead guitarist, while Rob Younger, a tall, hirsute Iggy Pop, howled lyrics laced with multiple references to the beloved Stooges. As a unit, the band captured the raw power of Tek's Michigan forebears and fused it with Blue Öyster Cult's metallic guitar virtuosity and the surf-rock sounds of the Beach Boys, culminating in an swirling sonic maelstrom.
Radio Birdman released only a couple EPs, a few singles, and two studio albums in its explosive, too-brief career. The debut LP, 1977's Radios Appear, was its lone American release (issued in the US by Sire in '78, albeit with a different track listing). The follow-up, Living Eyes, was recorded just before the band's '78 breakup, but it wasn't released until '81. Sub Pop's new Essential CD, the only domestic Birdman release in print, draws prime cuts from all these sources.
The 22-track set opens with "Aloha Steve & Danno," a ferocious Hawaii Five-O tribute which goofs on the original Ventures theme, yet has the seemingly sincere chorus: "Steve, I wanna say thank you for all you'e done for me/ The night is dark and empty when you're not on TV." (Other Sub Pop bands were inspired by both Birdman and the Five-O; rumor has it that Mudhoney's Mark Arm wrote "Touch Me I'm Sick" while watching the show.)
Besides a few slower (though no less intense) songs, the disc plays like string of glorious, high-energy anthems, addressing girls, guns, Stroh's, Eskimo Pies, and cruising Midwestern interstates in vintage Detroit steel. Highlights include "Burn My Eye '78," "Do the Pop," "What Gives?" and the teenage call-to-arms "New Race" ("the kids are gonna start it up!"), but the best track is a killer live version of the joyously poppy "More Fun."
The collection's title is a bit of a misnomer, as several other "essential" tunes are MIA, particularly "455 SD." However, The Essential Radio Birdman is easier to find and cheaper to buy than the Australian imports of the studio albums (as well as Ritualism, a live CD recorded during a '96 reunion show). Overall, Essential is a solid introduction to a great band, and if it knocks you out, you'd do well to hunt down the rest.
Incidentally, Deniz Tek didn't abandon his medical studies in the name of rock 'n' roll. These days, between his occasional solo gigs, he works as an emergency-room surgeon in Montana. Yeah, hup!
Buy from Amazon.com.
Originally appeared in The Daily of the University of Washington, August 1, 2001.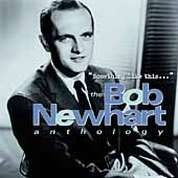 Bob Newhart
"Something Like This..." The Bob Newhart Anthology
Warner Archives/ Rhino, 2001
In case you didn't know, Bob Newhart was a hugely successful standup comedian before becoming a TV star. Though the former Chicago accountant had never before worked in front of a live audience, his first performances were recorded for his 1960 debut album, The Button-Down Mind of Bob Newhart. The Warner Bros. release was an instant critical and commercial smash, winning a Grammy for Album of the Year, hitting number one and moving a million copies, becoming the then-biggest-selling comedy record of all time.
In the wake of TBDMOBN, Warner released six more Newhart albums between 1960 and 1967, including The Button-Down Mind Strikes Back, Behind the Button-Down Mind, and The Button-Down Mind On TV. Each record had six or seven tracks, each track a distinct comedy bit, amounting to 44 bits in all.
Something Like This presents 24 of these tracks in chronological sequence, many of which have been out of print since their original release. Though a decent collection of highlights, the whole double-CD shebang clocks in at an unlistenable-in-one-sitting two-and-a-half hours.
The anthology's title refers to Newhart's setup on many of these routines. He spells out some absurd premise, say, the Wright Brothers trying to book commercial passengers on their flimsy glider, then explains, "I think it would sound something like this..."
He then slips into character and delivers a monologue, often into an imaginary telephone receiver, whereby the audience only hears his side of the conversation. A prime example of this is in the opening cut, "Abe Lincoln vs. Madison Avenue." Lincoln's savvy, 1960s-style PR man is on the line with his behind-the-times 1860s client: "Abe, sweetheart, how are ya? How's Gettysburg? Sort of a drag, huh? ... You're thinking of shaving it off?! ... You changed 'four-score-and-seven' to '87'? That's sort of like Mark Anthony saying: 'Friends, Romans, countrymen, I got somethin' I wanna tell ya.'" The seven-minute routine concludes with a bad piece of advice: "Why don't you take in a play?"
A perplexed guard at the Empire State Building has to call his supervisor at home in "King Kong," as such a situation wasn't covered in his job orientation. "This isn't your standard ape, sir ... I'm sure there's a rule against apes shaking the building ... I doubt very much he signed the book downstairs." In "Introducing Tobacco to Civilization," the baffled head of the West Indies Company tries to understand Sir Walter Raleigh's explanation of tobacco over the phone: "It's a kind of leaf, Walt? ... And you bought 80 tons of it? ... You shove it up your nose?" Likewise, the "Modern Witch Doctor," who plays golf on Wednesdays, tells a patient: "Sounds like a 24-hour curse to me ... I could recommend a good demon man."
Among the non-phone routines, both "The Driving Instructor" and "Bus Drivers School" cover similar turf from the perspective of the harried teacher, while a drunken accountant blows off a career's worth of pent-up steam at his "Retirement Party." "The Man Who Looked Like Hitler" and "Ben Franklin in Analysis" are somewhat self-explanatory.
All these bits are mildly amusing, but for contemporary audiences who've seen and heard just about everything, this forty-year-old material is pretty dated. It's not terribly sophisticated by today's standards either, though it could still be funny if you're swacked, like the live audiences sound on these discs. Still, for the curious, this anthology is much easier to find and cheaper to buy than the vintage vinyl discs, or even their reissued CD counterparts.
Newhart completists should note that Something contains all previously released material, but the booklet has some rare, early-'60s black-and-white pictures from when Newhart had a relatively full head of hair. There's also a killer color photo of him wearing a cap at "Hollywood Star Night 1972," apparently a celebrity ballgame at Dodger Stadium.
However, ignore Judy Brown's liner notes, at least until after first listening to the discs. She gives a short bio and track-by-track account of each routine, but she spoils many of the bits by giving the best lines away.
Although these recordings may seem quaint, Bob Newhart's button-down cool remains as fresh and vital as ever in his TV sitcoms, particularly The Bob Newhart Show (CBS, 1972-78), in which his stammering deadpan style reigns supreme. Regardless, this new collection is a welcome addition to my CD shelves, where it is filed neatly between the Murder City Devils and the New York Dolls.
Buy from Amazon.com.
Originally appeared in issue #14 of the print zine Scram, Summer 2001. Order it here.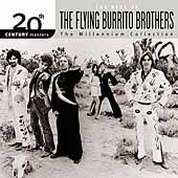 The Flying Burrito Brothers
The Best of the Flying Burrito Brothers
20th Century Masters: The Millennium Collection
A&M/Universal, 2001
Over the last couple years, Universal Music has released a few dozen best-of collections highlighting its various acts, each with the generic title 20th Century Masters: The Millennium Collection. Such artists include Chuck Berry, the Who and the Velvet Underground, as well as "masters" like .38 Special, Cameo and Teena Marie. While many of these discs are unnecessarily redundant with previously issued hits collections, they do offer a budget-priced, 10-to-12-song primer on each act.
Such is the case with the country-rock band the Flying Burrito Brothers. Just last year, Universal released the excellent Hot Burritos! The Flying Burritos Brothers Anthology 1969-1972, a comprehensive two-disc set comprised of all three of the group's studio albums and various other tracks. Barely a year has elapsed and here come the Burritos again, this time with their own Millennium Collection. Twelve songs for 12 bucks, compared to 25 dollars for the 43-track Anthology. You do the math.
In any case, after contributing to the Byrds' acclaimed 1968 country-rock hybrid album Sweetheart of the Rodeo, Gram Parsons and Chris Hillman flew the coop and formed the Burrito Brothers. The Burritos were pioneers in SoCal's so-called "country-rock" genre (a term Parsons hated, preferring "Cosmic American Music"). These urban cowboys further fused C&W and R&R on their 1969 debut, The Gilded Palace of Sin (from which six tracks appear on Millennium Collection), as well as 1970's Burrito Deluxe and 1971's self-titled effort.
Their music combined electric steel guitar with a country twang and harmonizing vocals, with mostly compelling results. The Millennium Collection opens with the honky-tonk rocker "Christine's Tune," and then runs the gamut from rollicking shit-kickers ("Break My Mind," "Lazy Days") to plaintive, cry-in-your-beer ballads ("Do Right Woman," "Dark End of the Street").
Despite poor sales, the band attracted heaps of praise from critics and fellow musicians, among them, the Rolling Stones. Parsons drank and drugged with Stones guitarist Keith Richards, who invited the Burritos to open the Stones' infamous Altamont concert. Parsons and company are seen in the film Gimme Shelter bashing out Dave Dudley's truck-driving anthem "Six Days on the Road" (which, unfortunately, isn't included on Millennium Collection). However, the Brothers recorded the Jagger/Richards tune "Wild Horses" (even before the Stones laid down their own version), and the gorgeously wistful track closes out Millennium Collection.
After the Burritos split up, Parsons recorded a couple solo albums. Then, messed up on morphine and booze, he died in 1973 at age 26. Parsons has since become a cult icon and his work has remained highly influential, what with the ever-growing popularity of that no-depression/ alt-country/ y'alternative/ whatever-the-hell-it's-called genre.
The Burritos existed a mere three years out of the last millennium, but if The Millennium Collection sounds like your bag, then go for it, pardner.
Buy from Amazon.com.
Written in August 2001.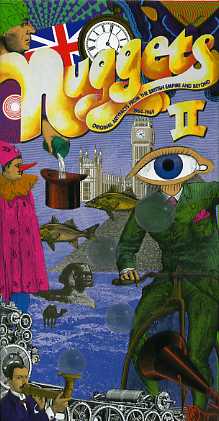 Nuggets II
Original Artyfacts from the British Empire and Beyond: 1964-1969
Rhino, 2001
In 1972, Lenny Kaye, who later became known as Patti Smith's guitarist, compiled the best of American garage rock from the mid-'60s and released it under the title Nuggets. The Elektra Records double-LP included explosive bits of lo-fi rhythm-and-blues and psychedelic pop from such bands as the Sonics, Remains, Music Explosion, Shadows of Knight, Count Five, Thirteenth Floor Elevators, Love, and others. The highly regarded collection was followed by many imitators, including the Pebbles and Back from the Grave series, and in 1998, Rhino expanded and reissued Nuggets as a sprawling, four-disc, 118-song set, accompanied by a fantastically colorful booklet crammed with rare facts and photos. It's essential.
Now Rhino has just released Nuggets II, a sort of "antisequel" following same tried-and-oh-so-true formula, assembling more obscurities from roughly the same era; the only difference is that these groups hailed from England and other international locales. After a suggested retail outlay of $64.97, one gets a staggering 109 tracks (over five hours of music) of British R&B, mod, psych-pop and freakbeat sounds concerning bad little women, real crazy apartments, witch doctors and so forth, as well another killer booklet.
Don't expect anything from the usual British invaders. The Kinks, Yardbirds, Hollies et al. are omitted, but that's just the point. The only breakthrough acts here are Davy Jones (who later became famous as David Bowie) and Northern Ireland's Van Morrison, with his oft-covered gem "I Can Only Give You Everything." For the most part, the rest of these bands stayed home, though some of their members later joined the Rolling Stones, Humble Pie, T-Rex, and other more popular acts.
One outfit that should've been huge was the Pretty Things, often regarded as a wilder, more raucous version of the Stones, represented here with their smashing protopunk classics "Rosalyn" and "Midnight to Six Man," as well as "Walking Through My Dreams." The same might be said for the Creation, who open the collection with the rocking "Making Time," and also weigh in with "How Does It Feel to Feel" and "Biff! Bang! Pow!"
Additional key acts include the Smoke (with their catchy "My Friend Jack"), Tomorrow ("My White Bicycle"), along with the Action, the Move, Kaleidoscope, the Small Faces, the Downliners Sect, John's Children, the Birds, the Mockingbirds, the Idle Race, the Eyes, and Les Fleur de Lys.
Outside the UK, the comp features groups from the Netherlands, Denmark, Spain, Sweden, Germany, Austria, Czechoslovakia and Iceland. From Down Under, Australia's Easybeats check in with "Sorry" and "Friday on My Mind," an infectious track which, besides the Status Quo's "Pictures of Matchstick Men," is the set's only single to hit the American charts. Eight more acts called Australia home, while New Zealand and Canada are represented by four bands apiece. There's also Mexico's Los Chijuas, Peru's We All Together, Uruguay's Los Shakers, Brazil's Os Mutantes (with their bouncingly rhythmic "Bat Macumba") and Japan's Mops, performing (what else?) "I'm Just a Mops" (sic).
Altogether, not to shabby. Once fully digested, this too will likely be considered essential. Buy now, ask questions later.
Buy from Amazon.com.
Originally appeared in The Daily of the University of Washington, July 5, 2001.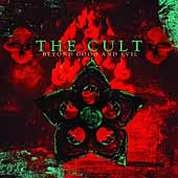 The Cult
Beyond Good and Evil
Lava/Atlantic, 2001
Like Saturday Night Live and Kidd Valley, the Cult is one of those institutions whose reputation draws you back every so often, only to leave you disappointed time and again.
After a spotty 1984 debut, the Cult hit its musical stride with 1985's Love and 1987's Electric, both of which combined an odd sort of gothic, hard-rock psychedelia with hokey American Indian imagery, with surprisingly effective results.
Frontman Ian Astbury, a sort Jim Morrison/Billy Idol hybrid, belted out trite, yin-yang lyrics about love and hate, peace and war, heaven and hell and so forth with his guttural growl, punctuated with ridiculously repetitive shoutings of "baby," "yeah," "honey" and the like. Guitar hero Billy Duffy made memorable tracks out of the riff-propelled "Lil' Devil," "Wild Flower" and the band's standout single, "She Sells Sanctuary." With a revolving door of drummers and bass players, Astbury and Duffy formed the core of an entertaining enough band, once one got past their humorless shtick.
The limeys found mainstream success with 1989's Sonic Temple, in which they opted for more macho, dick-rock posturing, each song delivered as a mini-anthem with some dull hook. The band tried to capitalize on the same recipe for two more albums in the early-'90s, which were met with diminishing commercial returns. The group eventually broke up, and last year, Astbury released an unimpressive solo album.
So, here come the Cult with the inevitable comeback album, and it's 1989 all over again.
On the strength of their solid mid-'80s output, this disc deserves some benefit of the doubt. The formulaic "War (The Process)" opens Beyond Good and Evil, an album whose album title accurately suggests more of the same lyrical content. The lead single "Rise" is decent enough, as is the closer, "My Bridges Burn," though those are the only two tracks that actually go anywhere. Following their earlier hit "Edie (Ciao Baby)," Beyond offers another power-ballad tribute to one of Andy Warhol's hangers-on, Nico ("Nico"). Otherwise, with more excessive heaviness and metaphysical nonsense, this record simply the covers the Cult's same uninspired, late-period terrain.
Still, if you're curious about the Cult and have $15 burning a hole in your Hilfiger-pants pocket, the Rick Rubin-produced, AC/DC-inspired Electric might just do you good. Unfortunately, as Astbury sang at the start of Sonic Temple, this is where it all ends.
Buy from Amazon.com.
Originally appeared in The Daily of the University of Washington, June 18, 2001.
Back to Top